PROBLEMS OF THE SPIRITUAL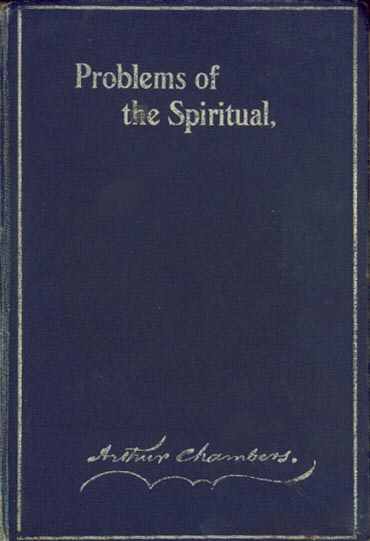 PROBLEMS OF THE
SPIRITUAL
BY THE
REVEREND ARTHUR CHAMBERS
Associate of King's College, London,
Vicar of Brockenhurst, Hants.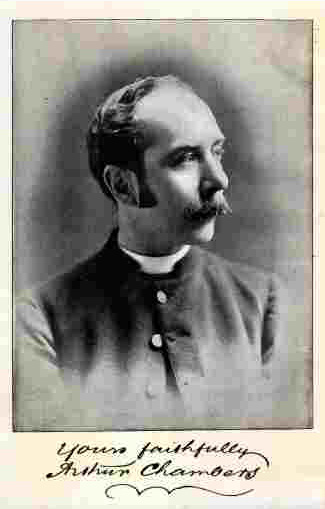 AUTHOR OF
"OUR LIFE AFTER DEATH," "MAN AND THE SPIRITUAL WORLD," AND "THOUGHTS OF THE SPIRITUAL."
TO MARK MY APPRECIATION
of our long-continued friendship, and, moreover, to thank
him for the encouragement he has afforded
me in the performance of a not altogether easy task,

I DEDICATE THIS VOLUME
TO THE
ESTEEMED FRIEND
who suggested the simple and apt title thereof.

LONDON
CHARLES TAYLOR
BROOKE HOUSE,
22 & 23, WARWICK LANE, PATERNOSTER ROW, E.C,

---
CONTENTS OF
"PROBLEMS OF THE SPIRITUAL"

PART I.
I. Can the Departed be objectively present? If so, in what way can they manifest themselves to us as to be recognizable?
II. Is the fact that trickery and imposture have been associated with Spiritualism, a proof that it is the outcome of falsehood and credulity?
III. Does the prohibition against intercourse with "familiar spirits," as given to the ancient Israelites, imply that all communion with the Spirit-world is forbidden by God?
IV. How can it be explained that many of the communications alleged to come from discarnate beings are unsatisfactory, misleading and untruthful?
V. Is there a danger in attending séances, on the ground that at such meetings evil and deceiving spirits may be attracted?
VI. Will our earthly relationships be maintained in the Other World?
VII. Why do not all the Departed manifest themselves to those whom they have left behind?
VIII. Will the fact that beings in Spirit-life are on different planes of life and experience be an obstacle to re-union?
IX. Apart from direct communications from them, how may we best realize that the Departed are still living and in relationship with us?
X. Are not such expressions as—"The sea gave up the dead, which were in it," "Them which sleep," and "Those that are in the graves"— an indication that the New Testament writers regarded Death as a temporary cessation of conscious being?
CONTENTS
OF "PROBLEMS OF THE SPIRITUAL"

PART II.
I. Objections against "The Larger Hope" considered.
"The book—' Our Life after Death ' teaches Universalism. It leaves out the strong things Jesus Christ said. What is called 'the strong language of the Athanasian Creed' is our Lord's own teaching."

(From report in "Church Times" of March 9th, 1906, of the Bishop of London's statement. See note at end of chapter.)
II. "The Times of the Restitution of all things."
III. "As in Adam all die, even so in Christ shall all be made alive."
V. "Our God is a consuming Fire."
VI. What Greek word denoting "never-ending" could the writers of the New Testament have used, if the word

(aionios, translated "everlasting" and "eternal") will not sustain that signification?
VII. Is there a danger, in regard to the Universalist belief, of making the Benevolence of God dominate His Holiness and Justice in such a way as to constitute Him the Tolerator of evil?
VIII. Is it right to pray for those who have departed this life as non-Christians? If so, what should be the character of our prayers for them?
IX. If Christians depart this life to be with Christ, how can our prayers benefit them? Does He not know exactly what to do for them without our intercessions on their behalf?
X. On what grounds can we base our belief that Jesus is not only pre-eminently a Son of God, but the Son of God, in the sense of being Divine?
---
PREFACE.
It may help the Reader to better understand the purport of this volume, if I briefly state the considerations which have led me to write it.
There was a necessity for my doing so; I had no other means of discharging an obligation imposed upon me. Let me explain.
Some into whose hands this comes, are aware that I have previously published three volumes on the subject of the Spiritual World, which have had a very large circulation in this and other countries. The result has been a correspondence so over­whelmingly great, as to make it impossible for me to keep abreast of it. Thousands of letters have been sent to me by earnest ones from all quarters of the world.
Amid the pressing duties of a ministerial life, I have strenuously set myself to reply to those letters; and a great number of them have been answered. But many have not.
Among the latter, are those which contain questions, not only important to the writers in view of their search for truth and for the removal of difficulties which are presented to their mind, but which, moreover, are incapable of being adequately answered within the circumscribed limits of ordinary correspondence. Some of the letters submit a series of questions, the answering of which would involve the writing of matter sufficient to form a booklet.
Moreover, in many cases, questions which have been fully answered by me on several occasions, have again and again been submitted by other enquirers. It will thus be seen how a great pile of the "Unanswered" has persistently grown, without there being any possibility, in spite of all my efforts, of diminishing it. How could I answer those Questioners? What could I do to rid myself of the unpleasant thought that some—not knowing the circumstances of the case—might be accounting me neglectful or discourteous? This book is an attempt to solve, or to partially solve, the difficulty.
From the numerous questions sent to me, I have carefully selected such as I deem to be the most important and which have been the most often proposed; and then I have tried to answer them fully and exhaustively in the pages of this volume. It may be that those whose kind communications have elicited—until now—no response, will, after this explanation, extend to me their forgiveness.
The other consideration which has impelled me to write this book is the desire to vindicate the position of those who embody in the Christian Religion the ascertained facts of Psychic life, and the "Larger Hope."
The ranges of present-day knowledge and thought are larger and wider than those of the past. Science, during the last half-century, after having unfolded to us marvel after marvel with regard to the Physical, has of late directed her researches to the domain of the Spiritual. There, wonder after wonder has been disclosed. Psychic Phenomena have been carefully investigated, and their reality avouched by many of the foremost men of the day; until a new continent of life and possibility has been laid open before us, and a revealing light has been flung on the mystery of Human Being.
Further, the mind of this present age has moved on to the acquirement of fuller and worthier conceptions of God, His character, and His purposes with respect to mankind. Men are no longer able to think of Him as He was presented by the Schoolmen and divines of bygone ages. The crude and anthropomorphic notions of Him are fast disappearing. Many of the old religious doctrines—especially those which deal with Eschatology—have ceased to commend themselves to the intelligence and the moral instincts of the day. Accepted without question in the past, as the integrant parts of Christian Truth, these doctrines have been found to voice, not the teaching of the Master Himself, but the unevolved ideas of those who interpreted His teaching. In a word, men's enlarged conception of their spiritual organization, and their realization that a non-Physical realm of life and energy encompasses and interpenetrates them, has caused them to re-cast their thoughts concerning God and Truth.
Now, it is this fuller revealment of Spiritual realities, manifested in Psychic Phenomena, and this re-casting of ideas concerning God and the scope of His Gospel, which is causing religious disquiet to some.
This enhanced knowledge and wider thought are regarded as being incompatible with the teaching of Christianity. The persons to whom I refer are mentally disturbed by any presentment of truth which differs from that which has been accepted by them. They have been trained to believe that the theological pronouncements and definitions of the Church or Body to which they have attached themselves, are the final utterances of God in respect to Divine Truth. They suppose that to question those pronouncements, and to imagine them capable of being altered or modified, is a sure indication of declension from the Christian Faith. They are aware that the present-day conceptions, in regard to God and His purposes, and in regard to man and his interior constitution and relationship to the Spiritual Universe, are not in agreement with the conceptions of the generally accepted exponents of Christ's Religion who have lived since Bible-times.
All this constitutes a very real difficulty to such Christians. Is this fuller knowledge concerning the Spiritual, and is this brighter and more hopeful outlook towards God and the Future, inimical to the Gospel which Jesus taught?
We believe it is not; and a further object in view in the writing of this book, is to try and show that the Gospel of Christ is so Divine and comprehensive a thing as to be capable of embodying all the acquisitions of knowledge and all the movements of men's minds to higher thought and aspiration.
The Christian Religion, we believe, would cease to maintain its hold on mankind, were it not able, as God's great ocean of Revelation, to draw into Itself and absorb all the streams of Truth which flow through the channels of the Religions of the world, as well as those tributaries and brooklets of enlightenment which from the uplands of human thought slowly, but surely, find their way into the streams.
Arthur Chambers.
Brockenhurst, Hampshire,
August, 1907.

---
(The following pages are from the rear of the original book)


A few of Mr. CHARLES TAYLOR'S important Publications that
can be obtained at nearly ail Booksellers.
IMPORTANT WORK LATELY PUBLISHED.
"Thoughts of the Spiritual"
(ALREADY IN ITS EIGHTH EDITION),
By the well-known Author of "OUR LIKE AFTER DEATH,"
REVEREND ARTHUR CHAMBERS,
Vicar of Broekenhurst, Hants. Crown 8vo. Blue Cloth, Silver-Lettered, 3/6 nett; Post Free, 310.
REVIEWS.
Church Bells.
"We are glad to welcome another volume from the pen of this gifted author. . . . There is a real fascination in the Author's style and treatment of his subjects. He possesses the rare gift of arousing thought and interest, and so step by step he leads his readers to accept his well thought-out conclusions. There is nothing vague or hazy in his deductions, and his descriptive power is so plain and natural that it carries conviction until the object sought for is fully displayed. Above all, the simplicity of style, and the quiet force of plain truth, set forth in sympathetic language, gives this volume a real value among the writings of modern theological teachers, and we trust that as wide a circulation may be given to it, as to those other works of Mr. Chambers--OUR LIFE AFTER DEATH,' which has readied its 104th Edition, and ' MAN & THE SPIRITUAL WORLD,' now in us 22nd Edition."
Newcastle Chronicle.
"Mr. Chambers has already become a gnat spiritual force, and this new volume should serve to enlarge the sphere of his usefulness. He is a thinker of great originality, and an expositor of marked lucidity. Where many have laboured in the domain of Christian evidence with barren result, Mr. Chambers has the happy art of bringing conviction. He seems to us to find evidence in the Scriptures themselves which others have overlooked, or at least to present it in a light which makes it appear new and directly convincing."
Literary World.
"The Rev. Arthur Chambers has received conclusive proof that a large public is interested in his teaching as to the future life, and 'THOUGHTS OF THE SPIRITUAL' is a further volume in which he discusses various aspects of this subject."
Booksellers' Review.
"There is sure to be a demand for the new volume."
Scotsman.
"It cannot but prove interesting and suggestive to devout readers.''
Order 11 copy of this important Book from your Bookseller or write direct to the Publisher.
---
A Few of Mr. CHARLES TAYLOR'S
'Popular 'Publications.
_________________
COMPANION WORK BY THE SAME AUTHOR.
Man and the
Spiritual World
AS DISCLOSED BY THE BIBLE.
This Work is now in its 22nd Edition.
BY THE REV. ARTHUR CHAMBERS,
Vicar of Brockinhurst, Hants.
Crown 8vo, blue cloth, silver lettered, 3s. 6d. net; post free 3s. iod.
THE DUNDEE COURIER__
"No one can read the book without paining new light, new hope, and a larger insight into the deep places of Scripture. . . . In the interest of a liberal theology of an intelligent study of the Bible, and of definite and cheerful views of the life after death, we hope that this vigorous thinker and explorer may make many more excursions in the held of eschatology."
THE WEEKLY SCOTSMAN__
"The book is thoughtful and well expressed . . . All the conclusions are rational."
THE CHURCH WOMAN—
"We recognise in Mr. Chambers' work an honest and true attempt at studying the results of psychical research with a view to restoring them to their place in the scheme of Christianity. He has brought home forcibly to many, who would otherwise be indifferent, the tremendous fact that existence is not bounded by the grave, and that the Scriptures are worthy of serious attention as throwing light upon spiritual problems of here and here­after; he has made them realise something of the Communion of Saints, and of the reality underlying such lines as—
Hear the victors who o'ercame,
Still they mark each warrior's way:
All with one sweet voice exclaim
'Watch and pray!' "
The four volumes being uniform in size and similar In binding, form a handsome gift.
CHARLES TAYLOR, Brooke House, 22 & 23, Warwick Laue, Loudon, EC.
---
EXTRAORDINARY SALE. 104th Edition Now Reached.
New and Enlarged Edition Now Ready.
The Press and Public are unanimous in proclaiming it to be the most wonderful book on the subject.
"Our Life After Death"
OR THE TEACHING OF THE BIBLE CONCERNING THE UNSEEN WORLD.
By the Rev. ARTHUR CHAMBERS,
Vicar of Brokenhurst, Hants.
(WITH PHOTOGRAPH OF THE AUTHOR).
Crown 8vo, blue cloth, silver lettered, 3s. 6d. net; post tree, 3s. 10d.
Canon Hammond writes—"I shall be thankful if any words of mine can procure for this book a calm and dispassionate consideration."
Another Dignitary of the Church writes—"This is the clearest, most Scriptural, and most fascinating book on the subject which has as yet appeared."
Order a Copy of this Important Work that is now in its 104th Edition. THIS WORK IS UNIFORM WITH—
" PROBLEMS OF THE SPIRITUAL,"
3s. 6d, net
" THOUGHTS OF THE SPIRITUAL,"
3s. 6d. net.
"MAN AND THE SPIRITUAL WORLD,"
3s. 6d. net.
BY THE SAME AUTHOR.
And the four Volumes make a very acceptable gift
CHARLES TAYLOR, Brooke House, 22 4 23, Warwick Lane, London, EC.
---
---